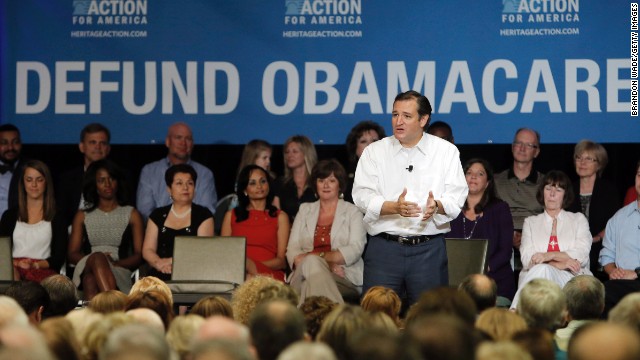 This guy gets his insurance from Goldman Sachs, but he wants to take your access to quality, affordable health care away.
A recent survey found that 74% of Republicans are happy with the health coverage they're receiving through the Affordable Care Act.
Meanwhile, Congressional Republicans have voted over 50 times to repeal the popular program.
Overall, the survey found that 78 percent of Americans who received coverage through the Affordable Care Act said they were satisfied: 73 percent of those enrolled in a private plan and 84 percent of those enrolled in Medicaid.
Here in Texas, over 1 million people were denied the opportunity to enroll in Medicaid due to Rick Perry's refusal to expand the program and let the federal government foot the bill. Now, Texans are paying federal taxes to help insure folks in other states.
Read more about the survey below the jump.The poll was commissioned by The Commonwealth Fund, an organization dedicated to promoting high performing health care. 4,425 adults were surveyed between April 9th and June 2nd.
Other key findings from the poll:
The uninsured rate for the 19-to-64 age group declined from 20 percent in July-September 2013 to 15 percent in April-June 2014, which means there were an estimated 9.5 million fewer uninsured adults.

The uninsured rate for young adults 19 to 34 declined the most of any adult age group, falling from 28 percent to 18 percent, or 5.7 million fewer uninsured young adults.

The uninsured rate fell significantly for people with low and moderate incomes and for Latinos.

The adult uninsured rate fell significantly in the nation's two largest states, California and Texas. Among the six largest states, Texas and Florida-neither of which expanded Medicaid-have the highest uninsured rates.
Had Texas expanded Medicaid, it is likely that our uninsured rate would have plummeted even lower.
Meanwhile, as more Americans use their plans, visit the doctors they want to see, and save money on their annual health care costs, Obamacare's popularity will likely continue to rise.
But don't expect the Republicans in Congress to stop trying to repeal it. After all, it's not like they have any solutions of their own.