Welcome to Burnt Orange Report's live blog coverage of the start of the second special session.
Today promises to be a busy day in and around the pink dome. A massive "Stand With Texas Women" rally is planned for noon, featuring musical acts, a variety of speakers, and a celebrity or two. This afternoon, the Capitol and surroundings will be home to a variety of trainings and outreach efforts, detailed here. And of course, the anti-choice protestors are expected to be present, though it remains unclear what numbers they will turn out for this first day.
The House and Senate are expected to gavel in at 2:00 p.m. to officially start the second special session, at which time bills that have already been introduced may be referred to committee.
Below the jump, follow along as our team of intrepid liberal bloggers roams the Capitol grounds to bring you first-hand coverage of todays' events.
Liveblog Updates will run at the top of the page.



So all are clear: House and Senate are both adjourned until Tuesday, July 9th. The House referred their version of the anti-choice legislation — HB 2 — to the State Affairs committee, which will meet tomorrow at 3:30 p.m.
Update 4:18 p.m. from Ben:

Great sign.
Update 4:12 p.m. from Ben:

Eric Metze came from Lubbock to the rally. His dad, a law professor at Texas Tech University, gave him Ann Richards signs from her 1990 campaign to bring with him.
Update 3:59 p.m. from Ben:

Jenny, her son Cole and her mom Anna came out to support the cause of women's rights.
Update 3:52 p.m. from Ben:

Claire from Austin came out today "because I support all women's rights."
Update 3:45 p.m. from Ben:

I met sisters Martha and Liz at the rally today. Martha said she was there "because I've been here before…we shouldn't be fighting the same fights we fought in the 1970's." Liz told me that she's here to protest the bill because "we must stop the intrusion into women's bodies and lives."

Martha and Liz made the point that abortion must be available and safe after 20 weeks not because women haven't made up their mind by then, but in case the mother grows seriously ill or a child might be born with severe disabilities. The bill does not have exceptions for the life of the mother or the discovery of severe birth defects.
Update 3:34 p.m. from Katherine:

Earlier today I had a chance to chat with Nancy, who came down from Georgetown to attend the rally. She heard about the anti-abortion bills during the filibuster that ended the first special session, and was shocked that lawmakers would consider such drastic efforts to curtail women's rights.

"I came out to support Wendy!" she said. "All these old white men wanting to tell us what we can do with our bodies?!"

Nancy doesn't approve of it, y'all.


Update 3:15 p.m. from Ben:

The view from upstairs in the Capitol today. An incredible showing of support for women's rights in Texas.



Update 3:13 p.m. from Shelby:

Terri Burke with the ACLU, Brittany Yelverton with Planned Parenthood, and Amy Hagstrom-Miller with Whole Woman's Health at the Women's Health and Reproductive Justice Panel at the Texas State Teachers Association building.



Update 3:08 p.m. from Shelby:

President of Whole Woman's Health, Amy Hagstrom-Miller walks through de-stigmatizing abortion and abortion providers.


Update 3:05 p.m. from Katherine:

Packed house for the first of two shifts of voter registrar training and deputization with Travis County Tax Assessor Bruce Elfant. Almost 50 folks packed into the Ned Granger building for the training to help register other Texans to vote.
Update 2:50 p.m. from Shelby:

Some women brought tons of wire coathangers covered in paper for people to write messages to Rick Perry. The hangers will be delivered later today. The message is clear: Texas women won't go back!


Update 2:50 p.m. from Ben: The Senate met again and decided to meet again on Tuesday, July 9th. No activity in special session until after July 4th, it appears.


Update 2:48 p.m. from Ben: The Senate recessed until 11:00 A.M., Tuesday.


Update 2:27 p.m. from Chaille: The House adjourned until 2:00 p.m., Monday, July 8, 2013.

Update 2:26 p.m. from Ben:

Update 2:11 p.m. from Ben:

One of many great signs there today as women and men from across the state join together to protest insanely restrictive, invasive body regulation.

Update 2:06 p.m. from Katherine:

Some great images from the event are popping up on Facebook! This one was taken from the Capitol during Senator Davis's speech. It gives you a good sense of how epic and how very, very orange the crowd was today!

Update 1:55 p.m. from Katherine:

I spotted TDP Chairman Gilberto Hinojosa and TCDP Chairwoman Jan Soifer in the crowd! Both had their festive orange attire on. Hinojosa also had an orange Astro's hat.

Update 1:35 p.m. from Joe:



@WendyDavisTexas addresses Stand With Texas Woman Rally. #swtw http://t.co/8rx8QkmrS5 #txlege

— Joe Deshotel (@joethepleb) July 1, 2013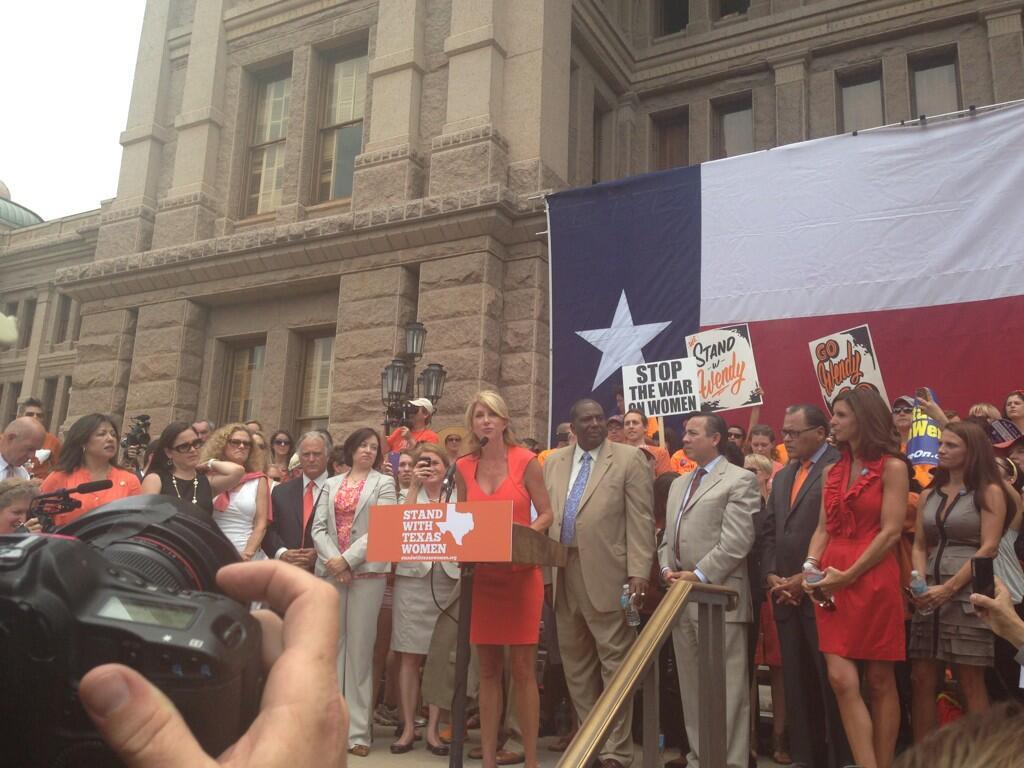 Update 1:15 p.m. from Katherine:

"I believe in Texas more than ever."

Senator Davis took the stage to an overwhelming ovation. She graciously thanked her colleagues for their support during the filibuster and their efforts after her third point of order to keep the debate going until the citizens' filibuster could run out the clock.

Davis emphasized the broad reach of Rick Perry's War on Women, from his veto of the Texas Lilly Ledbetter Fair Pay Act

"Fairness is and always will be a fundamental Texas value."

Davis noted that Republicans have a stranglehold on all of our statewide offices, and have forgotten about the people of Texas. She emphasized the need for Texans to stand up for our state and said that she felt hopeful about the future. She closed to "Respect" by Aretha Franklin and was joined by her colleagues, who held up two fingers, ostensibly the peace sign but also symbolic of their "NO" votes on the floor of the Senate.


Update 1:09 p.m. from Katherine:

Stephanie March, former star of Law & Order: Special Victims Unit, told the story of her grandmother who opened a woman's health clinic in San Angelo in the 1910's, and expressed shock and anger that she is still fighting this fight.

Then she dropped this zinger:

"If we were here today trying to pass a bill legislating what men could do with their penises, they would lose their minds!"

The crowd roared its approval.

Update 1:02 p.m. from Shelby:

I spoke with Leyla, who got a babysitter so that she could come down to Austin to join the crowds today. She says she's not "pro-abortion," but rather anti-government intrusion in people's bodies.

Update 12:59 p.m. from Katherine:

After Senator Leticia Van de Putte made some rousing remarks that made clear that she was not going to let her voice go unheard, the Senator introduced Allison Catalano, a former staffer for Republican State Rep Myra Crownover. Catalano left her position over her boss's support for slashing family planning funds in the 2011 session.

Catalano introduced proud daughter of Texas Cecile Richards, the current President of Planned Parenthood, and daughter of the last Democratic, female governor of Texas, Ann Richards.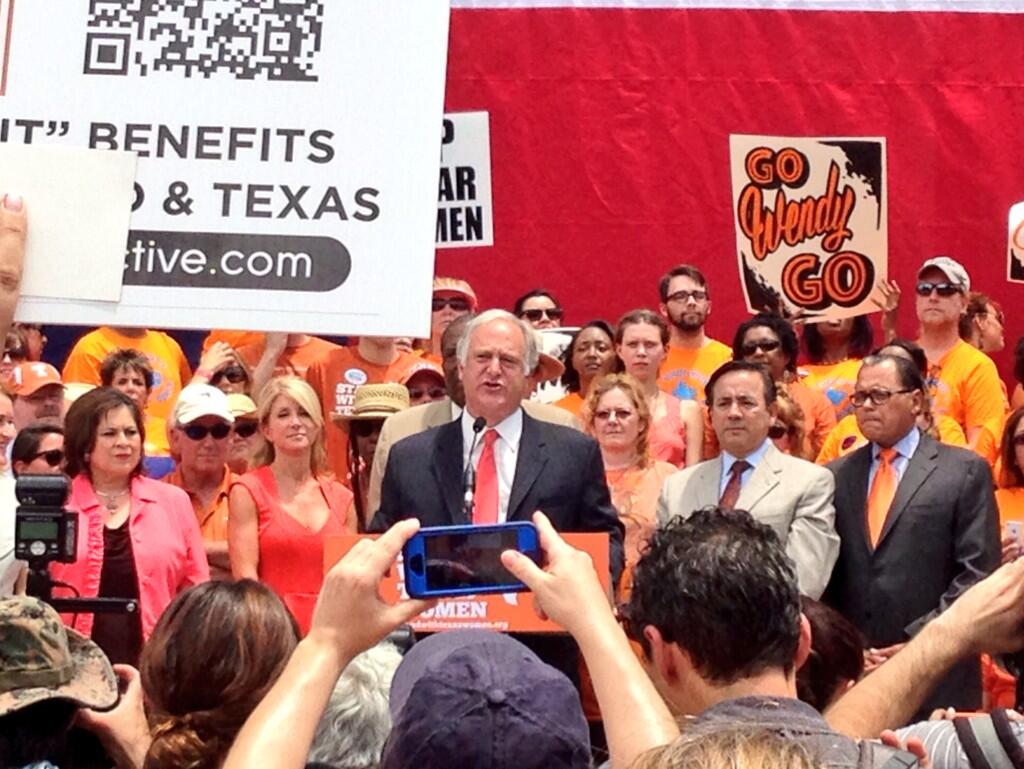 Update 12:52 p.m. from Katherine:
Senator Kirk Watson, Chair of the Senate Democratic Caucus, is speaking to the crowd, introducing his colleagues. Introducing Senator Leticia Van de Putte, Watson called her "a Senator who will be sure her voice is heard," to sustained cheers.
Watson emphasized that this would be a hard fight, but that if we harness the energy at the Capitol today, we can end the war on women and take our state back.
He closed, "God bless Texas, and God bless Texas women."

Photo from KLBJ
Update 12:34 p.m. from Shelby:

Inside the Capitol, I found Arianna Roberts and her friends. This was Arianna's birthday wish — for her and her friends to come to the Capitol dressed up to reflect the times that Governor Perry is trying to take them back to.

Overall, the contrast between the happy crowd outside and the anti-choice protestors inside is quite dramatic. The former are many in number and very upbeat, while the latter seem angry. Oh, and there are a lot less of the anti's, I should add.

Update 12:28 p.m. from Katherine:

A plane flew over the rally trailing a "Stand With Wendy" banner! Estimates put the crowd over 5,000 people. The roar is tremendous — I bet those anti-choice Republicans can feel the Capitol building shaking.

Meanwhile, several reporters on Twitter have stated that Senator Glenn Hegar has officially filed SB #1, the omnibus abortion ban, for a second special session.


Update 12:20 p.m. from Katherine:

Natalie Maines received a warm welcome in the hot sun:





Not ready to make nice Still mad as hell #StandWithTXWomen ( with her daddy on guitar!) pic.twitter.com/KE50eP49Vw

— mcbyrne (@mcbyrne) July 1, 2013
So did our Texas House Democrats:


#txlege House Dems get 1 min each to shout encouragement. Get rock star applause. Something you don't often see in TX.

— Ben Philpott (@BenPhilpottKUT) July 1, 2013


Update 12:05 p.m. from Katherine:

The rally has started, and the crowd is LOUD. Here are some Tweets from the folks in the audience:





HAPPENING NOW: Rally at the TX Capitol to #standwithTXwomen! pic.twitter.com/E8ReSAW0Ec

— Planned Parenthood (@PPact) July 1, 2013
Texans gather to protest anti-abortion legislation, gear up for round 2 #standwithtxwomen pic.twitter.com/dkEL3C17pI (via @TMFtx)

— ThinkProgress (@thinkprogress) July 1, 2013
Update 12:00 p.m. from Shelby:

Audrey, Linda, Maggie, and gene all traveled down to Austin from College Station. They're regular readers of BOR and despite being Aggies, they sacrificed to show solidarity and wore burnt orange today!

Update 11:53 a.m. from Katherine:

Bright Light Social Hour is warming up the crowd as we get ready to start. It's great to see our local Austin bands standing up for Texas women.

Update 11:48 a.m. from Shelby:

18-year-old Marshall Williams encouraged his entire family to travel down from Denton to oppose the anti-woman legislation, Although they have been watching the livestreams from home, today was their first day at the Capitol. They are here specifically to tell their State Senator Jane Nelson that Texas is watching.

Update 11:31 a.m. from Katherine:

There's already a hearty crowd of orange tee shirts assembled in front of the Capitol. Folks entering from Congress Avenue pass through a sign-in area seen below, where they can register to vote and get engaged with the organizing work going on across the state. Attendees are given a sticker. The total number of stickers given out will help determine the head count.

Overall the vibe is very peaceful and mellow. Our pro-choice folks are not here to cause any violence — despite what the heightened security presence and riot gear might indicate. They're here to peacefully stand up for our rights to bodily autonomy.


Update 11:06 a.m. from Katherine:

A column published in the Dallas Morning News is making waves with its argument that Perry's attack on women's health is bad for the "pro-business" climate he likes to tout. Mitchell Schnurman writes:
"For a governor who has been getting a lot of play and traction as a traveling chamber of commerce advertising Texas as a great place for jobs, a sudden focus on social issues seems an odd and counterproductive deviation and distraction," [Former Bush and McCain strategist Mark] McKinnon wrote in an email.

The odd and counterproductive behavior will continue. Perry wasted no time before scheduling another special session for Monday, with abortion restrictions topping the to-do list. He also doesn't seem interested in defusing the high emotions that led to public protests and drowned out lawmakers.
Rick Perry may think his Texas is pro-business, but he's sure working hard to make it anti-lady-business.
Update 10:53 a.m. from Joe:
An unofficial rally kicked off at 10:00 a.m. Austin City Council member Mike Martinez welcomed the crowd to Austin and encouraged everyone to do the work necessary to turn Texas blue.
Update 10:42 a.m. from Katherine: What Would Tami Taylor Do?
Connie Britton has teamed up with Planned Parenthood Action Fund for a special tee shirt to show support for Texas women. Mrs. Coach wouldn't truck with any of this business. Click here to get yours.
Update 10:00 a.m. from Katherine:
Orange-clad Texans are already beginning to assemble in front of the Capitol, while a few blue-suited anti-choice activists were also spotted in the vicinity. 11th Street is lined with TV trucks, mostly from local network affiliates.
One potential source of drama today may involve who gets seated in the gallery. Rumor has it that anti-choice activists may head directly inside to line up and take all of the seats in the House and Senate, in an ersatz attempt to claim a larger base of support. Pro-choice Texans hoping to get a seat in the House or Senate today may want to forego the rally and line up to be guaranteed a spot.