Candidate for Governor gestures frantically towards where chemical disclosure information can be obtained.
I must admit I'm a bit confused by the ideological inconsistency coming from Greg Abbott these days.
While he has staunchly defended the anti-woman pseudo-science "Woman's Right To Know" law, he won't let us know what chemicals are stored in our neighborhoods?



Maybe if we stored them in a woman's uterus he'd mandate disclosure? (Just kidding, Dan Patrick! Don't get any ideas!)
While Greg Abbott has repeatedly supported a law that mandates scaring women seeking abortions into thinking they will get breast cancer — an allegation which is patently false and designed to deter women from exercising their rights — he doesn't think Texans have a right to know what chemicals are stored in their neighborhoods, even though federal law requires this disclosure.
More on the anti-choice hogwash Greg Abbott thinks women "have a right to know" and the public health and safety information he's blocking below the jump.You probably know by now that Greg Abbott signed an opinion that blocks the public release of required lists stating what hazardous chemicals are stored in facilities in Texas.
When pressed on the issue, Abbott told reporters that Texans could "just drive around" and ask about chemical storage, all casual like, because that's not weird and won't cause alarm. Then he said that he didn't even know he was suppressing the information. Uhh…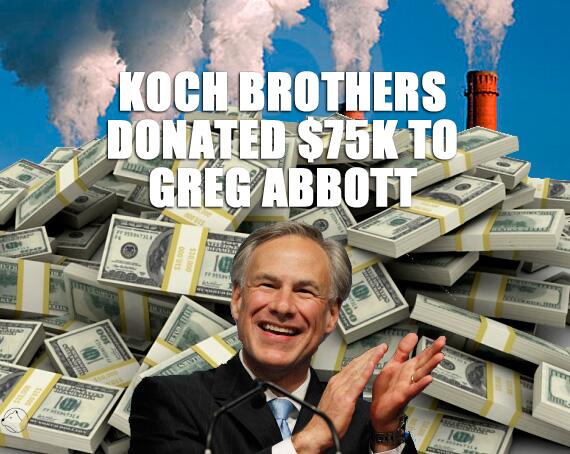 Reporters, citizen reporters, and even more reporters have tried to "just drive around" and been turned away, told to call California, or threatened with a call to the Department of Homeland Security. The story has made Abbott the laughingstock of the statewide press corps, as he keeps floundering to explain why he took $75,000 from the Koch brothers, who own a chemical plant, and now suddenly wants to block required safety disclosures.
Maybe it's the factual nature of the information that Abbott opposes, since as Attorney General he has staunchly defended the state's most ironically awfully titled law, the "Woman's Right To Know" law, which passed in 2003.
The law requires that doctors provide women with a whole bunch of claptrap designed to intimidate, scare, or deter them from seeking an abortion. It includes such gems as a debunked link between breast cancer and abortion (again: NOT TRUE) and tries to insinuate that a woman won't be able to get pregnant again if she has an abortion. (Again: not true.)
The law was sponsored and passed by an anti-choice Republican from San Antonio, Rep. Frank Corte, who later filed several requests for opinions from Abbott to clarify the draconian measures of his law.
Abbott opined that a conference call or recorded message was insufficient in terms of shaming (my words) the women and wasting the doctors' time. His office wrote, "No statute or judicial opinion of which we are aware has defined the phrase 'orally by telephone.'" (I suppose it's not in the "abstinence only" sex education manual, either.)
So, to sum up:
Greg Abbott doesn't think you have a right to know what chemicals are stored near your home.

He does think women have a "right to know" a bunch of pseudo-scientific claptrap designed to shame them for exercising their rights.

This guy wants to be in charge of the state of Texas.
I don't know about y'all, but I think Texans have a right to know what dangerous chemicals are at risk of hurting their families, and that the state has no business lying to women about their health.
It's too bad our Attorney General doesn't agree.