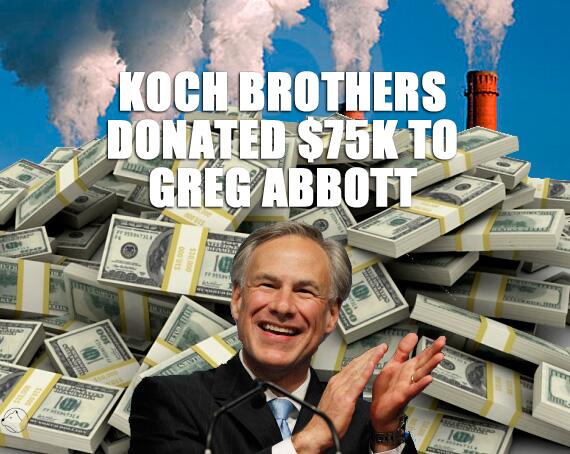 When Attorney General Greg Abbott ruled that citizens could not rely on their state government to inform them when harmful chemicals were in their neighborhood, the Dallas Morning News editorial board said he "stepped in it," and the Lubbock daily said he should reverse his decision.
Abbott told citizens to "just drive around" to look for harmful chemicals that could be near their homes or schools, but after news reports showed it wasn't so easy, the Lone Star Project produced its own video of just what happens when you question a business that may be stashing potentially harmful materials.
See the video below the jump…

Most of the bad press for Abbott started mounting after he speed away from a WFAA reporter who questioned him on his ruling. The station had been investigating what chemicals were present after a fertilizer fire broke out in Athens, Texas when they were denied the information requested.
Abbott responded publicly by saying,
"You know where they are if you drive around…You can ask every facility whether or not they have chemicals or not. You can ask them if they do, and they can tell you, well, we do have chemicals or we don't have chemicals, and if they do, they tell which ones they have."
In its editorial the DMN said,
"The fact that Abbott has taken thousands of dollars from political donors related to Koch Industries, a multinational corporation with extensive chemical interests, creates particularly noxious "optics" for the Republican attorney general in his campaign for governor.
The Dallas Morning News' Wayne Slater had previously reported that Abbott had "received more than $75,000 from Koch interests after the April 2013 explosion at the West Fertilizer Co. storage and distribution facility."
Yea, its pretty bad optics that he comes down on the side of large donors and major corporations over the interests of working people at every opportunity, but it is no surprise why his most popular answer is no comment.
Many of the businesses questioned by both the Lone Star Project and WFAA seemed to be clueless as to their responsibility or the ruling Abbott made regarding disclosure of chemicals.
As much as the media and others have complained about Abbott's silence on many issues, things only seem to get worse for the gubernatorial candidate when he opens his mouth. Still, silence is no way to run a campaign and it's no example to set for transparency on important issues that affect the health and well being of Texas citizens.
Follow me on Twitter at @joethepleb.