Today promises to be a busy day under the Pink Dome. The State Senate is meeting on the floor to take a final vote on HB 2 / SB 1, the Republicans' back-door abortion ban.
Immediately following the vote, there will be a rally for those of us who Stand With Texas Women at the Capitol on the West Steps starting at 9:00 p.m. or upon adjournment. Check Facebook for details.
The Stand With Texas Women coalition has also started a Tumblr where folks from across Texas can submit photos and stand in solidarity with Texas women.
Below the jump, follow our liveblog of everything that's happening today.Updates will run at the top of the page.
Final Update 12:35 a.m. from Katherine and Ben:

The crowd marched back to the Capitol just as the Senate finally adjourned sine die. Senator Wendy Davis and others came out to speak to those assembled.

Meanwhile, there are reports of peaceful protestors in the rotunda being arrested by DPS after they attempted a sit-in. The building has been cleared, and there are some injuries being referenced on Twitter, though nothing is confirmed. Surely there will be more discussion of that in the coming days.

Overall the mood is largely energized. People were talking about next steps and registering voters, and what we need to do to elect leaders who respect women's rights.

This is just the beginning. We may have lost this legislative battle, but it has sparked a movement that will be instrumental in taking Texas back for the people of our state.
Update 11:48 p.m. from Katherine:

The bill passed, 19-11, on to third reading. Dewhurst got Whitmire to make a motion to adjourn until 11:50 p.m.

The Senate will now gavel in and take their third reading, but not before a prayer.
Update 11:43 p.m. from Katherine:

Cecile Richards has arrived in the Stand With Texas Women bus, and is addressing the crowd.



Cecile Richards takes the stage and the crowd cheers. "I'm proud to be here as a Texan." #TXlege pic.twitter.com/EmMHjUBXC5

— Bobby Blanchard (@bobbycblanchard) July 13, 2013
Meanwhile, Glenn Hegar is closing on this bill by talking about crying over Disney movies. "The tears that I have shed are real." Can we get a gong in State Senate?! Seriously.
Update 11:22 p.m. from Katherine:

Sen. Lucio has been talking on the floor of the Senate for about ten hours now, apparently wanting to make sure everyone in the known universe knows he's the one Democrat voting for this clap-trap legislation.

Twitter is not amused. For one thing, someone needs to call a point of order on that jacket.
Is Eddie Lucio wearing one of Ann Richards' old jackets? #txlege #StandwithTXwomen

— Councilm. Joel Burns (@JoelBurns) July 13, 2013
Sen. Lucio is quite the anomaly. There's a reason he never appears with his D colleagues at rallies/appearances these days. #txlege #HB2

— Nathaniel Norris (@Nate_Norris) July 13, 2013
"The capacity for compromise has disappeared in politics," says @SenatorLucio minutes after saying there was no compromise on abortion #HB2

— Forrest Wilder (@Forrest4Trees) July 13, 2013
Update 11:14 p.m. from Katherine, Ben and Genevieve:

Rep. Jessica Farrar spoke to the rally, making clear that before Texas women stood up, Republicans cared only about their primary electorate. Now many of them have been forced to notice everyone else. We may not win all of their seats but we may moderate their votes, and we will win some of them.

The crowd is excited but calm, and is now watching the Senate livestream.

Update 10:54 p.m. from Katherine:

Thousands of Texans marched from the Capitol to Republic Square Park:



Republic Square is starting to fill up! #StandWithTXWomen pic.twitter.com/wXIx68DXOK

— Tanene (@TaneneAllison) July 13, 2013
Meanwhile, Senators are still making closing speeches on the floor, as they have been for about an hour now. Eventually they will wrap it up and take the vote. After that, Dewhurst is expected to adjourn the Senate sine die.

Update 10:47 p.m. from Ben:



Update 10:41 p.m. from Katherine:

Aerial shot of march entering Republic Square Park:
Update 10:33 p.m. from Ben, Katherine, Joe, & Genevieve:
Update 10:04 p.m. from Ben: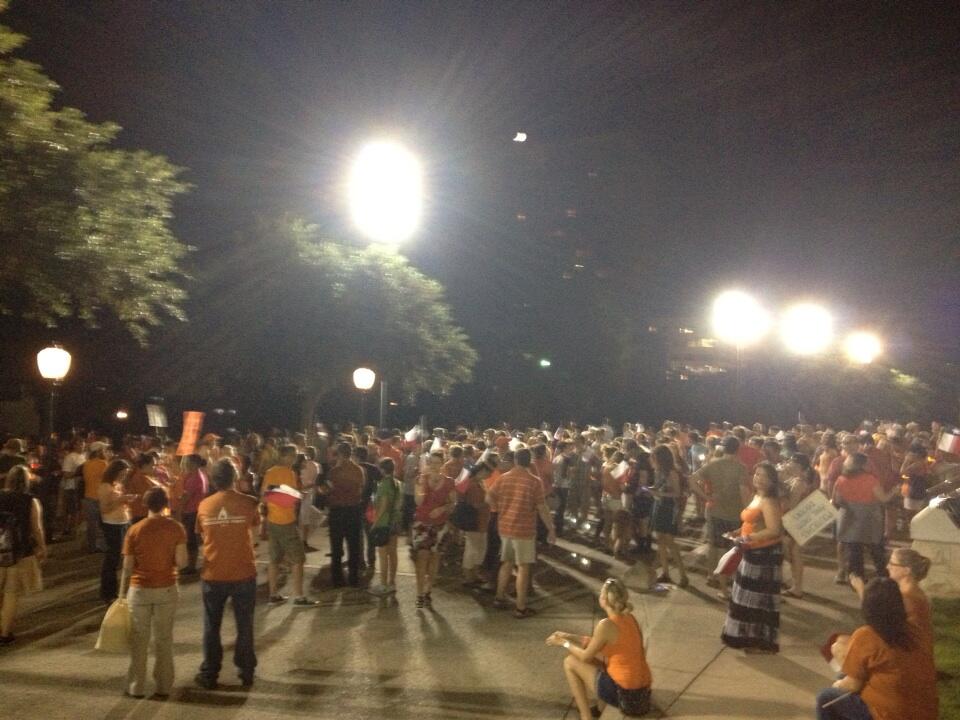 Update 9:56 p.m. from Ben:

Crowds marching out of the Capitol, towards the south gates and onward to Republic Square Park.
Update 9:54 p.m. from Genevieve:

Massive crowds outside the Capitol gathering for the rally and march!

Update 9:44 p.m. from Katherine:

Cecile Richards, President of Planned Parenthood of America, is here in the rotunda, and will be speaking in the rally and walking in the march to Republic Square Park.
Mom watching #standwithtxwomen pic.twitter.com/lwZFMjfYQk

— Cecile Richards (@CecileRichards) July 13, 2013
Updated 9:32 p.m. from Ben:
Sen. Wendy Davis introduces Amendment 20, which would ensure that women get equal pay for equal work in Texas. Sen. Davis says it's germane because if we're going to impose this draconian laws denying abortion access, we should give families the ability to feed their children and support their families.
"I do not think it is germane to this bill," Sen. Hegar says, despite having voted for that bipartisan legislation during the regular session.
Amendment 20 was tabled on a vote of 18-12.
Update 9:30 p.m. from Ben:

Sen. Rodney Ellis introduces Amendment 19, which would accept the Medicaid expansion funds offered in Obamacare. This would expand health care in Texas. "This bill is going nowhere anytime soon," Ellis notes of HB2, because it will be challenged in the courts. "Don't vote politics, just vote your conscience," Sen. Ellis concludes.

Sen. Hegar says the amendment is not germane.

Sen. Ellis points out that it's ridiculous not to accept this federal money, because a third of our budget is already federal money. "The only time we turn down money is when it's to give 1.5 million children and women health care in Texas," Sen. Ellis said. "Otherwise, we're paying for an emergency room."

Update 9:26 p.m. from Katherine:

The North and South Capitol entrances are shut. You cannot come in. Folks should head to the West Steps for the rally.

The Senate is debating the last few amendments now. Then the Senate will make speeches for awhile, and then vote. Getting close now.
Update 9:21 p.m. from Ben:

Sen. Wendy Davis introduced Amendment 17, which would require that th eprvoisiosn in this act not take effect unless and until the funding is given back to family planning facilities from previous budget cuts, and just as many as on Dec. 1, 2010. "This would ensure that before imposing these draconian measures…we restore 56 family planning clinics which were providing the only real possibility of reducing the number of abortions in Texas," Sen. Davis said.

Amendment 17 was tabled on a vote of 18-12

Sen. Garcia introduced Amendment 18, which would allow post-partum care coverage up to six months. It's an extension of 60 days to 6 months. 

The amendment was tabled 18-12.

Update 9:16 p.m. from Genevieve:

This is the line to get into the Capitol on the north side.

Updated 9:15 p.m. from Ben:

Sen. Watson introduces Amendment 15, which would require that sex education curriculum in public schools as "evidence based" – supported by research conducted in compliance with accepted scientific methods and published in peer-reviewed journals.

Sen. Hegar: "I think we disagree about what is germane to this bill."

Amendment 15 fails 18-12.

Sen. Judith Zaffirini introduces Amendment 16, which would scrap #HB2, except for the 20-week ban.

Amendment 16 was tabled 19-11.
Update 9:07 p.m. from Ben:

Sen. Kirk Watson introduced Amendment 14, noting that Texas has one of the highest rates of pregnancy in the United States. Additionally, Texas is #1 in teen mothers having second pregnancies. The amendment would notify school parents, in writing, of the content of their children's sex education classes. It will "improve on the ability for parents to be involved in children's lives that help them get through those teenage years and prevent unplanned pregnancies…What this does not do is mandate that schools teach about things like contraception."

"This amendment is what I believe we should have been doing all along."

"Voting against this amendment is voting against information to prevent unplanned preganancies and thus prevent abortions. Voting against this amendment is voting against getting parents involved in sex education so that they can prevent unplanned pregnancies and abortions," Sen. Watson said.

Sen. Wendy Davis stands to talk about statistics of unplanned teen pregnancies causing teenage girls to drop out of school. Sen. Hegar says those statistics are not germane. Sen. Watson reminds Hegar that this bill is supposedly about preventing abortions and improving women's health, which would do just that.

The motion to table Amendment 14 was tabled 18-12.

Update 9:04 p.m. from Katherine:
Folks in orange continue to pour into the Capitol in advance of tonight's rally, expected to start within the hour. The rotunda is literally shaking with the chants and cheers of pro-choice Texans. The line to enter the Senate gallery still stretches three stories. There are a LOT of people here and tonight's rally and march is going to be electric!
Update 8:52 p.m. from Ben:

Sen. Van de Putte presented Amendment 12, which would allow teenagers to acquire family planning services without consulting their parents. Sen. Van de Putte that 40% of teen mothers need public assistance, and cutting off what access they do have will threaten "the dignity of life" a woman can hope to have.

"This amendment would prevent the provisions from going into effect unless we allow teenagers 15-17 years old who have already had one baby to be able to obtain family planning or contraceptives without parental consent."

This amendment is to "reduce the need for abortions" by "making them unnecessary to begin with," Sen. Van de Putte said.

The motion to table Amendment 12 passed 19-11.

Sen. Sylvia Garcia introduced Amendment 13 to extend post-partum health coverage on CHIP Medicaid. It was tabled.
Update 8:32 p.m. from Ben:

Sen. Jose Rodriguez presented Amendment 11, requiring information distributed by "crisis pregnancy centers" to be accurate – about birth control, abortion, and STI transmission. The amendment would also require CPCs to display a sign that they are not licensed medical facilities. As it stands CPCs largely distribute misinformation to women to dissuade them from getting abortions. 

It was tabled 19-11.
Update 8:20 p.m. from Katherine:

We're still expecting the rally to start around 9:00 p.m. after adjournment, so get on down to the Capitol and assemble by the West Steps. We'll march to Republic Square Park at 4th and Guadalupe where we'll rally some more!
Update 8:09 p.m. from Ben:

Sen. Leticia Van de Putte, a pharmacist, has presented Amendment 5, concerning doses of RU-486. The bill dictates that physicians must administer it in an oral dose (as opposed to the more-effective vaginal option), a mandate without any support from the medical community. Sen. Van de Putte argues that the Legislature has no right to interfere with doctors' decisions. The motion to table passed 18-12.

Sen. Zaffirini presented Amendment 6, which would fund the currently unfunded mandate to update abortion clinics. She noted that most be able to fund it themselves, since most run at a loss. The amendment failed, 19-11.
Update 8:07 p.m. from Joseph V.:

As the debate on HB2 continues, some Representatives, who do not have to be here today, have opened their office to guests so they can watch the debate on the bill. One of those Representatives is Austin's Donna Howard who has welcomed anyone who came by and offered visitors cheese and crackers.
Update 7:50 p.m. from Ben:
The Senators debated Senator Carlos Uresti's amendment to provide an exception for victims of rape and incest.
Senator Dan Patrick talked about "passion and caring" as the heart of this bill when explaining why he doesn't want to exempt rape and incest victims from the law.
Senator Eddie Lucio argued that one of the reasons the 20-week ban is terrible is that many pregnant women are in some form of captivity through fear of the man. Many women will not be able to get out of a bad situation until after 20 weeks – and then what will this law do? It will deny them an abortion if they want one, despite their circumstances. Lucio closed by arguing that with such a terrible effect of the law, the Legislature should take the full time of the special session to consider the bill.
Ultimately, Uresti's amendment to make an exception for rape and incest victims was voted down.
Floor Amendment 3, to exempt women whose physical health is at risk, was then debated very quickly and it was defeated, as was Amendment 4, which provided exceptions for mental health.
Update 7:32 p.m. from Katherine:

Spotted in line: The Tampon Fairy!

This woman made her costume and came down to the Legislature after this afternoon's tampon-seizure debacle.

It would be great if we had a Tampon Fairy in real life… Or if we had a Legislature that didn't make such a mockery of itself in the process of stripping women of basic reproductive rights.
Update 7:08 p.m. from Katherine:
While the next four dozen or so folks in line for the Senate Gallery are wearing blue — and the line to enter is majority blue at this point — hundreds more are wearing orange and cheering in the rotunda on all four levels.
The line still stretches down three flights of stairs, from the Senate gallery, into the rotunda and down the stairs three times over, and then almost all the way to the west entrance.

Update 6:39 p.m. from Katherine
The Senate is taking a 5-minute break, and after that will move on to amendments. Expect the Democrats to offer a variety of amendments that might lessen the horrible impact of this bill on Texas women. Expect them not to be accepted. Amendments can be viewed here.
The mood remains upbeat in the rotunda. Folks who want to stand in the rotunda must gather in the middle; the perimeter is required to remain clear.
Now is a good time to start heading down to the Capitol for tonight's rally and march to Republic Square Park. Parking will be challenging so take public transit or carpool if you can.

Update 6:27 p.m. from Shelby & Katherine:

Fun signs in the rotunda. The crowd is starting to grow now that regular 9-5 work hours are over. Orange-clad pro-choice Texans are showing up with their signs in advance of tonight's rally, which will be held once the Senate adjourned.

Update 6:11 p.m. from Chaille:

After Senator West called a legitimate point of order, he withdrew it so the debate could continue on today. 

The rule that stemmed the point of order essentially states that the Senate did not suspend the rules to allow the Health and Human Services Committee to meet concurrently with the full Senate.

As I've mentioned they are back to their regular level of decorum, but Republicans are dangerously close working outside of the rules, yet again, despite the fact that they are seemingly trying to follow them this time. 

Update 5:33 p.m. from Katherine:
I went for a stroll on the Capitol grounds. I spotted our friends from the Travis County Democratic Party giving out water and registering voters.
I also ran into Austin's famous Sixth Street Cowboy, Sam Olivo, and his horse, Mula, who were here to show support. Mula was decked out in orange. Sam is a Native American, and he spoke about how he joined the fight for women's rights in solidarity.

Update 4:48 p.m. from Chaille:

The Senate is back to doing what it does best: being boring.

One of the most fascinating things about the night of the filibuster is that it was so unusual and out of the ordinary by any measurement.

All the Republicans members were present, looking to see if Senator Wendy Davis let up. Traditionally the Senate respects the decorum and if the intent of one Senator to filibuster than Senators generally allow that to happen, being a "deliberative" body.

The sad thing is the Republicanss have shown their true colors, because what is happening now could have happened without all of the rule-breaking if the Republicans had just let her speak.

No word as to when they will finish. Right now Hegar is doing a great job of not accepting any amendments and carefully non-answering questions.

Update 4:35 p.m. from Katherine:

The rotunda is getting louder as the pro-choice orange team on the floor and levels 2 and 3 and the anti-choice blue shirts on the 4th floor alternate trying to drown out the other side.



Update 4:05 p.m. from Katherine:

The floor debate started with Senator Glenn Hegar laying out HB 2, which was substituted for SB 1 after passing the House.

Senator Royce West peppered Hegar with questions about his support for a woman's right to choose. Hegar danced around the issue, citing Roe as precedent. Hegar did not come right out and call for Roe to be overturned or state his own personal opposition to abortion rights, though he has previously campaigned on overturning Roe v Wade.

As debate continued, Senator Bob Deuell made the charming remark that low-income abortion seekers are "unsophisticated patients" who need the legislature's help.

Yes, Senator Deuell actually said that poor and less-educated women need the legislature to make decisions for them.

The points made by Democratic Senators have focused on the process (the lack of a "Blocker Bill" and thus no existence of the 2/3rds Rule), the fact that this omnibus bill failed to pass in its constituent parts during the regular session, and the fact that no amendments were allowed to be added, particularly Senator Carlos Uresti's amendment to exempt victims of rape and incest from this bill's 20-week limit.

Currently, Senator Sylvia Garcia is wrapping up her questioning.
Sen Garcia 'Who brought you this bill? Were there constituents or incidents that wanted this legislation?' Hegar: No. #HB2 #TXLege

— Lilith Fund (@lilithfund) July 12, 2013
Garcia asks Hegar "who brought you this bill." Hegar: "This is something me & my staff came up w/" #txlege #HB2

— Shefali Luthra (@shefalil) July 12, 2013
But ALEC sure wanted it, didn't they.
Update 3:52 p.m. from Joseph V.:

Tampons and pads that were not allowed in the gallery were collected by pro-choice supporters before DPS could confiscate them before entering the chamber. The bag of feminine hygiene products is in Jessica Farrar's (1N.8) of anyone needs to recover their property.
Update 3:36 pm. from Katherine:

Senator Kirk Watson has convinced DPS to stop confiscating tampons and maxi pads from women entering the Senate Gallery. (This is by far in the best interest of all Senators. Just sayin'.)

Meanwhile, the Texas Legislature is AGAIN the laughing stock of America, as #tampongate trended worldwide on Twitter. Here are some choice comments on the matter:
They can take our tampons, but they'll never take our freedoooo–oh, wait yes they can, they did and they will. #HB2 #txlege

— Mary Tuma (@TumaTime) July 12, 2013
Technically #Tampongate is also a euphemism for #Vagina. #Txlege #sb1

— Lizz Winstead (@lizzwinstead) July 12, 2013
As they seize tampons from peaceful protesters in Texas, we're still getting emails from people who REALLY NEED HELP. #contrast #sb1 #hb2

— NNAF Abortion Funds (@AbortionFunds) July 12, 2013
A velociraptor can stop #tamponado. C: @KirkPWatson

— Jason Stanford (@JasStanford) July 12, 2013
And our friends at Progress Texas made a graphic:
Aaaaand the Internet wins. Kudos to @_nasdaf_:
Update 3:26 p.m. from Katherine:

Large swarms of blue-shirted anti-choice folks have been bused to the Capitol. A witness told us that she watched as a bus pulled up and disgorged dozens of anti-choice activists.

The photo at right shows a group of folks who were bussed in and cut the line to enter the Capitol, pushing aside people who had already been waiting. Ironically, they cut a local anti-choice activist, who complained to a member of our orange-shirt contingent.
Update 3:09 p.m. from Genevieve:

In the line, and I imagine in the gallery, the mood is still pretty quiet and calm. But in the rotunda, the crowd that Shelby photographed has grown, and there are people standing at the rails on the 2nd and 3rd floor, too. 

They were singing "We're Not Gonna Take It," which as we now know, Dee Snider, the lead singer from Twisted Sister, completely supports. Then they started chanting, "Who's House? OUR House!" and the chanting echoed around the rotunda and could be heard throughout the capitol. 

Outside of the Senate chamber, a smaller group of protesters were chanting, "Ho Ho! Hey Hey! Abortion rights are here to stay!" 
Update 2:56 p.m. by Joseph V.:

Currently, the auditorium is set up as an overflow room and is open with video from the Senate floor love streaming. Several committee rooms are ready to open as overflows with video feed should they be needed, but they are not open at this time.
Update 2:43 p.m. from Joseph V.:

The line to enter the Senate chamber 15 minutes before the call to order ends at the stairwell on the ground floor. The line loops and curves through the third, second, and first floors before reaching the basement, where it stretches to the west entrance and back to the stairwell just past Rep. Craig Eiland's office. If the debate last past 5:00 pm it would not be surprising to see the line wind into the extension at this point.
Update 2:33 p.m. from Genevieve:

Images from the long, long line to get into the Senate gallery:
Update 2:22 p.m. by Katherine:

Women are being forced to throw out tampons and maxi pads to enter the Senate gallery, which has been confirmed by DPS.

That's right: menstruating women are being denied entry to the Senate gallery unless they throw out their supplies.

Additionally, diabetics are asked to throw out their sugar packets.

However, people with concealed handgun licenses are allowed to bypass long lines to enter the Capitol itself through the expedited CHL entrance, and per a DPS officer, if a person has a CHL, they can take their gun into the gallery.

Guns yes, tampons no.

Update 2:05 p.m. from Shelby:

Right at 2:00 p.m., the scheduled start-time for the Senate, pro-choice advocates opened this banner on the floor of the rotunda. It reads "Mi Cuero, Mi Decision, My Choice."

Visitors to the rotunda are forced to either keep walking around the perimeter, or stand in the middle amidst chanting advocates for both sides.

Update 1:39 p.m. from Katherine:

We have more details on tonight's rally:

Stand With Texas Women Rally

9:00 p.m. or Upon Senate Adjournment

Meet on West Steps of Capitol

RSVP on Facebook

Update 1:08 p.m. from Genevieve:

I originally walked up to this woman because she had a poster that said, "I'm a Republican and I'm Pro Choice." She explained that that was actually her husband's sign. And, speaking of her husband, she had a quote from her father-in-law.

"My dear father-in-law, who passed away, said this to me. I thought, I want to be a part of your family!"
Update 1:03 p.m. from Katherine:

The mood is upbeat in the rotunda as folks finally begin taking their seats in the Senate gallery. There was a variety of cheering and chanting going on in anticipation of today's debate.

"We won't go back! We won't go back!"

Update 12:32 p.m. from Shelby:

This is the line on the street-level floor. The mood is pretty upbeat among those wearing orange. People realize the likely outcome of tonight's vote, but they also realize that this is just beginning our work to take back Texas. There are more "orange" than "blue" here today for sure.

Update 11:56 a.m. from Katherine:

While you're waiting or standing in line for the gallery, here are some good reads on this horrible anti-woman legislation and why it's unnecessary.


Meanwhile, from last night's Stand With Texas Women rally:
The positioning of the sign in this picture is unintentionally perfect. #txlege pic.twitter.com/cl8sPDP8aB

— Michael Li (@mcpli) July 12, 2013
Update 11:31 a.m. from Shelby:

The line to enter the Senate gallery stretches all the way to the Ground floor right now. For those unfamiliar with the Ground floor, it's basically the basement, as folks enter the Capitol on Floor 1.

In other words, there's a huge crowd here today.
Update 11:30 a.m. from Katherine: The doors to the Capitol opened at 7:00 a.m., and an army of orange-clad pro-choice Texans were there to get in line to sit in the Senate gallery today, and make sure our presence is felt.

Folks are currently waiting calmly for the doors to the gallery to open at 1:00 p.m. The debate is set to begin at 2:00 p.m.
West wing of TX Capitol, first floor. Line wraps up to 3rd floor. Doors to gallery don't open for over 4hrs. #HB2 pic.twitter.com/7cEXKCZDYv

— Jessica W. Luther (@scATX) July 12, 2013